16 Oct, 2023 | By Admin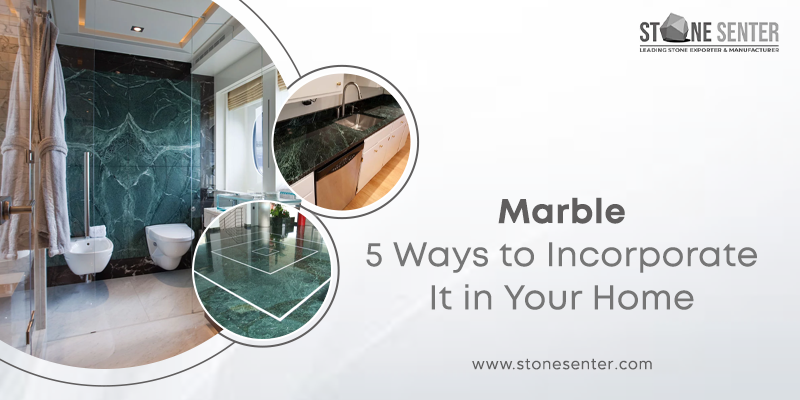 Marble has always been the first choice of interiors and space owners for several indoor and outdoor applications. Apart from its timeless beauty and elegance, these stones can significantly contribute to the functionality of your space while enhancing its charm.
While the beauty element is always considered when choosing marble, other benefits and elements of the natural stone play a crucial role. Marble is one of the best insulators, can reflect light, show excellent resistance to regular wear and tear, and, most importantly, is affordable.
As a marble stone manufacturer, we know you have already considered marble for several conventional applications, but are you aware of the classy and unique ways to install marble in your space? Don't think about the answer; keep reading!
Marble Pillars
Who doesn't like to add classic and elegant elements to their residence? So, choose a timeless natural stone – marble- for your space's pillars or columns. Columns were created to bear the weight of heavy objects; however, these days, they are commonly built as a decor element to enhance the interior of your space.
So, explore our marble collection and choose one that best suits your interiors.
Statement Wall
The trend of having a statement wall in your space is undoubtedly new but is here to stay for a long time. Choose to have a marble masterpiece for your space and leave it for everyone to admire. You can choose to create a marble wall in your living room and present it in the best contemporary way possible.
Washbasins
Don't you think believing that marble is only appropriate for floors and walls of your bathroom is old school? Well, as a natural stone supplier, we do so. People these days love to experiment when it comes to finalizing the interior of their dream space. Hence, feel free to create a bathroom with a marble wash basin being the highlight. These wash basins have excellent durability and longevity. Moreover, they are strong and easy to clean.
Fireplace Backsplash
The entire idea to create a fireplace backsplash is to make it the center of attraction. So, why not choose marble that always stays in the limelight? Using marble for your fireplace backsplash will be one of your best decisions. The natural stone is available in a variety of finishes and colors. In addition, marble has the ability to withstand high temperatures, which is one of the primary reasons you should make a marble fireplace backsplash for your home.
Vases and Lampshades
While we know you have already selected marble for your floors, here's another idea: use marble for accent pieces that will complement the floor and give your space a natural makeover. You can opt for marble lamp shades that look like the floor's extension or the vases that best complement the marble countertop and floor.
If you look forward to creating a calming, bright, chic, and fascinating ambience at once, bring home trendy marble decor for your space. Enjoy an elegant and comfortable space!
Wrapping up
Marble is undoubtedly the best choice for your dream interior. Make sure to explore our trendy selection and choose the marble that best suits the overall theme of your space and your preferences. For those looking to import marble outside India, we are a prominent marble exporter in India. Just saying, if you know, you know!
Request FREE Quote