Natural Slate Stone Supplier
Slate is a fine-particle metamorphic rock with minerals like kaolinite, illite, and smectite. Famous for its unique pattern and color variations, it is usually available with any
slate stone supplier
in shades of green, blue, purple, gray, or black with a brown or red hue variation.
The
natural slate stone
is durable, easy to maintain, and not prone to weather changes, making it a popular choice for various architectural applications that involves flooring and roofing.
What is the Reason Behind Natural Slate Stone's Popularity?
Slate, a versatile stone, offers a distinctive combination of beauty and functionalities. This eco-friendly stone possesses non-porous properties, making it resistant to stains and moisture. It also shows decent resistance to scratches and comparatively generates low carbon footprints.
Overall, any established
slate stone exporter
determines it as a low-maintenance material with common utilization in areas requiring continuous cleaning.
Do You Need to Seal Slate Tiles Before Grouting?
Yes! Even though the slate is less porous, it still requires regular sealing to prevent the soaking of stains or liquids. Applying a sealant before grouting is essential to protect the grout color from penetrating the tiles. For the best slate tiles or countertops recommendations, contact a leading
slate stone manufacturer
– StoneSenter.
Can Natural Slate Stone Break Easily?
It is a long-prevailing myth that natural slate stone breaks apart or cracks easily.
The reality is that splitting the slate is a part of the production process that a slate stone manufacturer undertakes to achieve the desired thickness. However, when it comes to installation, the natural material might still be raw; thus, it requires proper treatment and accurate installation.
Once things go smoothly, it is unlikely for a slate to crack even under extreme weight or pressure.
How to Maintain Slate?
As a natural stone, even slates from the best
slate stone supplier
require some maintenance to prevent them from deteriorating with time.
Use gentle soap, hot water, and a soft cloth to clean regularly. Avoid using harsh cleaners, and if scratches persist, use steel wool followed by a sealer polish to restore the stone's look.
Can I Order Sandstone as a Foreign Resident?
Yes, as a sandstone exporter in India, we export natural slate stone worldwide, including Europe, Australia, USA, New Zealand, and Singapore, giving you the liberty to choose from numerous color and style options.
WHY CHOOSE US
Quality Guarantee

24/7 Support

Fast Delivery

Largest Stones Collection

10K+

Projects Completed

5K+

Satisfied Clients

100+

Different Colors

16+

Years Of Experience
Our Global Presence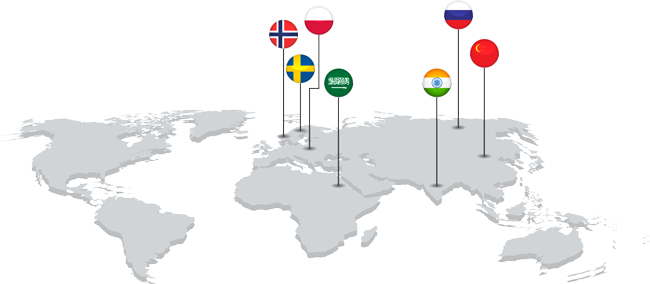 India

Norway

Sweden

Poland

China

Saudi Arabia

Russia
Inquiry Form
Send us the requirements of your project and we will get in touch soon.