Natural Granite Stone Supplier
As a leading granite exporter in India, we present you Granite, a wonder in the world of natural stones, which is an after-effect of cool and solid lava or magma. Its distinctive crystal-led beauty and durability have captured the attention of architects for ages. Due to its strength, the
natural granite stone
withstands the test of time with applications ranging from a historical pyramid to every bathroom tile.
The composition of various minerals, including feldspar, mica, quartz, and much more, adds to the uniqueness of natural granite stone. As a granite stone supplier, we can say that the stone's resistance properties concerning heat, moisture, and stain, and its capacity to bear heavy feet traffic, scratch, and spill make it a perfect match and a popular choice for decorative and architectural applications. Also, granite tiles are low maintenance, making it easy for
granite tiles exporters
to ship.
As a
granite stone exporter
, supplier, and
granite stone manufacturer
, we believe in providing you with a stone that increases the value of your space apart from beautifying it.
Why is Granite a Popular Choice for Kitchen and Bathroom Flooring?
Apart from granite's natural beauty, it is often used for its ability to withstand high temperatures and pressure. granite tiles manufacturer offers the best quality Granite tiles that have water and heat resistance properties, making them perfect for kitchen and bathroom floorings. As it does not soak in moisture, it is also resistant to mildew and mold; ultimately making it a low-maintenance natural stone for every
granite stone exporter
and the end customer.
Thanks to the resistance properties, a granite stone supplier can easily transport the stone to the desired location.
What Types of Finishes are Available for Granite Tile?
Granite tiles come in various finishes, out of which the most common ones available with StoneSenter, a
granite tiles manufacturer
, are polished, flamed, and honed granite. Granite with a shiny and reflective surface is polished. The one with a matte finish is known as honed granite, and finally, a rough granite with extensive exposure to heat is called flamed polish granite.
Do Granite Tiles Break Easily?
Granite is a robust natural stone and has the capacity to withstand pressure. However, with improper care and an irregular cleaning routine, the tiles can break apart after bearing certain pressure for years. The durability of granite also depends on its thickness and quality. Therefore, purchasing from the best
granite stone supplier
is crucial.
Please remember proper installation and maintenance are essential to maintain the quality and look of your precious granite tiles. You can get help from natural granite stone supplier.
What are Some Standard Tips for Maintaining Granite Floors?
While granite does not require extensive care and maintenance, you must look after those beautiful stones. Some of the things recommended by us, a leading
granite stone manufacturer
, are,
Clean regularly with a soft soap-water solution.
Do not use rough scrubbers or abrasive cleaners, as they can damage the tile surface.
Create a sealing routine if you don't want moisture or stain to penetrate the surface of your granite tile.
Immediately treat spills or stains of acidic substances as it can result in discoloration and etching.
Even if you know about repairing a damaged tile, don't risk further damage and leave it to professionals.
As a renowned
granite exporter in India
, we cater to all B2B and B2C orders of your favorite granite tiles globally.
Can I Order Granite Tiles or Stones as a Foreign Resident?
Yes, as the leading granite exporter in India, we export granite stones and tiles worldwide, including Europe, Australia, USA, New Zealand, and Singapore giving you the liberty to choose from numerous color and style options.
WHY CHOOSE US
Quality Guarantee

24/7 Support

Fast Delivery

Largest Stones Collection

10K+

Projects Completed

5K+

Satisfied Clients

100+

Different Colors

16+

Years Of Experience
Our Global Presence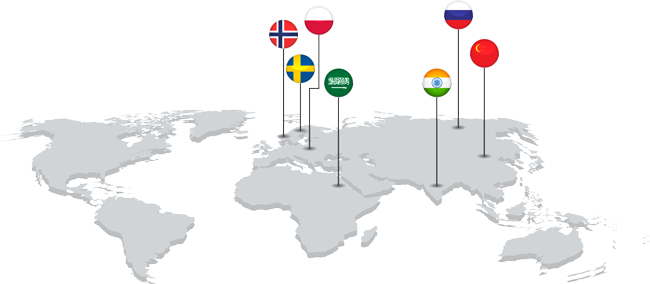 India

Norway

Sweden

Poland

China

Saudi Arabia

Russia
Inquiry Form
Send us the requirements of your project and we will get in touch soon.