Limestone Supplier
Limestone, a mesmerizing sedimentary rock, results from an accumulation of several marine organisms, including shells and corals, over the years. Generally available with
StoneSenter
in grey, white, or light colors, the stone's hue and tone depend upon its composition, which may vary slightly for each limestone. Several factors, including geographical conditions at the time of formation, affect the stone's porosity and hardness, resulting in varying textures ranging from smooth to coarse. This sustainable material is easy to mold, durable, and showcases different resistance concerning weather, heat, chemicals, heavy loads or foot traffic, and freeze-thaw. Limestone also features anti-skid properties, making it an excellent choice for several industrial applications and an attractive option for interiors, especially flooring.
Is Limestone Porous?
The calcium carbonate-rich composition of limestone makes it much more porous than other natural stones. It is particularly reactive to liquids and acids as the excess absorption of liquids and exposure to acidic substances will damage the stone. However, using a sealant as instructed can secure your natural stone floor or countertop.
As an established
limestone supplier in India
, we advise you to care for limestones on a regular basis is essential because you will certainly not enjoy a dark stain on a light and pretty floor or countertop.
How Can We Maintain the Beauty of Limestone?
Limestone exporters in India
export the best quality stones, mainly for flooring and countertop applications. These stones are durable but porous. Therefore, handling them with care is essential. Some tips for maintaining your limestone floor or countertop are as follows:
Treat spills and stains immediately, as they can penetrate the stone's surface.
Use a special cleaner designed to maintain surfaces of natural stone. It should be a ph-neutral cleaner, as cleaners with acidic substances can damage the tiles.
Use soft cloth instead of abrasive scrubs and cleaning tools.
Sealing limestone is essential. Make sure to use the best sealant periodically.
For limestone countertops, do not place sharp knives, pointed utensils, or hot pans directly, as they can damage the surface. You can either use a coaster, chopping board, or any protection.
Secure tiles using furniture pads to avoid scratches.
Regular sweeping, mopping, or vacuuming can eliminate dust and keep the stone shiny.
What are the Things to Consider While Selecting a Limestone?
While a beautiful limestone might be tempting to purchase, it can or cannot be the perfect match for your project. Therefore, to bring the best out of the stone and the design, it is wise to contact one of the leading limestone exporters in India – of course, us and consider the factors mentioned below while selecting the stone.
Project size and layout
The durability of the stone
Porosity and application
Texture and stone color
Stone finish and the best sealant
Maintenance and cleaning requirements
Can I Order Limestone as a Foreign Resident?
Yes, as one of the leading limestone exporters in India, we export limestone worldwide, including Europe, Australia, USA, New Zealand, and Singapore, giving you the liberty to choose from numerous color and style options.
WHY CHOOSE US
Quality Guarantee

24/7 Support

Fast Delivery

Largest Stones Collection

10K+

Projects Completed

5K+

Satisfied Clients

100+

Different Colors

16+

Years Of Experience
Our Global Presence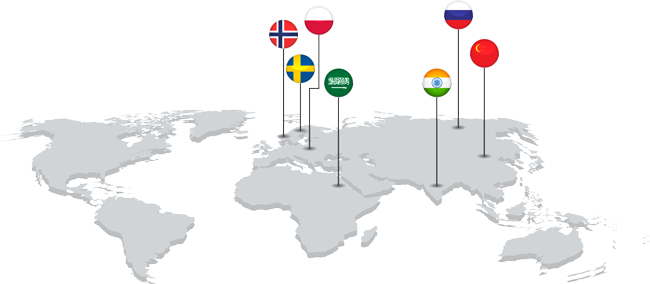 India

Norway

Sweden

Poland

China

Saudi Arabia

Russia
Inquiry Form
Send us the requirements of your project and we will get in touch soon.