Landscaping Products Suppliers
If you wish to add an aesthetic charm to your already beautiful garden or outdoor space, you are at the right place.
StoneSenter
's landscaping products made from natural stones are perfect for adding rustic or contemporary beauty to any space with their charming, versatile, and durable properties. A
landscaping product supplier
supplies these stones in several patterns, shapes, colors, and sizes, allowing people to customize their spaces by adding a touch of personalization. Moreover, stones like granite, limestone, sandstone, and slate are commonly used in landscaping because of their muscular build and ability to bear challenging temperatures and environments.
What will be the Average Cost to Landscape your Garden or Outdoor Spaces?
As an established
landscaping product supplier
, we can say that the average landscaping cost varies from project to project, and several factors are considered for determining the final cost.
Some of the most common ones are the type of natural stone, quality, project size, landscape design, additional materials, client's budget, and labor and equipment necessary for transforming your space.
How can you Import or Order Landscaping Products?
Whether you wish to enhance your current space or restore your previous landscape, you can go through our collection of landscaping products and order your favorite product. As a leading
landscaping product exporter
, we assure you of the stone quality that will soon transform your space.
What Sorts of Landscaping Products are Made from Stones?
The use of natural stones in the construction of landscaping products is common but not limited to pavers. It extends to boulders, steps, garden or stone walls, decoratives including fancy rocks, and much more.
All of these landscaping products are functional and beautify the appearance of your space.
What are the Benefits of Choosing Natural Stone for Landscaping?
For all nature lovers, choosing natural stone and landscaping their outdoor space is obvious, but if you need clarification, the below list of benefits is all you should read.
Longer lifespan than other materials like wood.
Unique appearance since no natural stone is the same.
A versatile collection range offering multiple colors, textures, patterns, shapes, and sizes.
Increases functionality of your space while increasing the resale value, i.e., high ROI.
Eco-friendly as it does not contain or emit harmful gases and consumes less energy in extraction.
Natural stones age well, i.e., they become more appealing with age.
Easy maintenance as it does not require a special sealing or painting routine.
Can I Order Landscaping Products as a Foreign Resident?

Yes, as a well-known landscaping product exporter , we export landscaping products worldwide, including Europe, Australia, USA, New Zealand, and Singapore, giving you the liberty to choose from numerous color and style options.
WHY CHOOSE US
Quality Guarantee

24/7 Support

Fast Delivery

Largest Stones Collection

10K+

Projects Completed

5K+

Satisfied Clients

100+

Different Colors

16+

Years Of Experience
Our Global Presence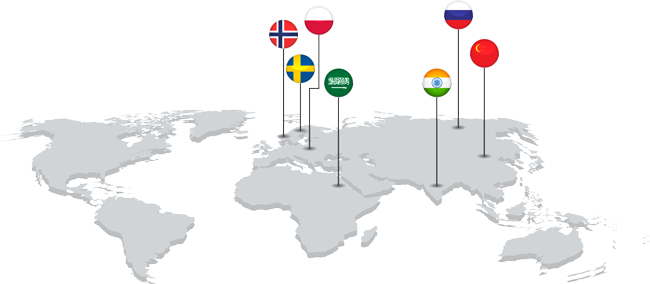 India

Norway

Sweden

Poland

China

Saudi Arabia

Russia
Inquiry Form
Send us the requirements of your project and we will get in touch soon.