Sandstone Supplier
Sandstone, a natural beauty, is a composition of similar sizes of sand grains secured together by calcite, silica, or an iron substance. This sedimentary rock is known for its color differentiation between the layers varying from beige to warm shades of brown and rustic orange. The beauty of its designs results from patterns and strokes created by water and wind. A sandstone exporter in India and interior designers prefer this stone for its capacity to withstand harsh climatic conditions and resistance to heat and chemicals. Sandstone is widely used in various interior and exterior applications, including flooring and countertops. This eco-friendly material supplied by StoneSenter is also an excellent thermal insulator and requires low maintenance.
Can Sandstone Stain Easily?
Sandstone's natural porous quality makes it prone to stains from absorbing liquids like wine, coffee, excess water, grease, and other forms that can successfully penetrate the stone's surface.
Still, the degree of stains depends upon various factors, including the stone's type, finish, and sealant. While some sandstones are more prone to stains than others, maintaining all of them is equally easy. Depending on the severity of stains, you can either use regular and mild soap-water solution or bleach to clean sandstone. Moreover, it is advisable to avoid acidic substances while cleaning.
A tip by
sandstone supplier
: Wait to wash sandstone if you doubt it will develop frost.
Is Sandstone Economical?
Sandstone is relatively cheaper as compared to other natural stones. However, a number of factors, including geographical location, installation, size of the project, type, and quality of sandstone, and maintenance, affect the overall cost.
Therefore, comparing sandstone with other materials is wise before finalizing a stone for your dream project. Also, if you reside outside India and are actively looking for the best quality sandstone, contact a leading
sandstone exporter in India
– of course, us!
How Long Does Sandstone Last?
Thanks to its composition, sandstone is durable and can last a lifetime. However, its lifespan also depends upon the application and environmental conditions it is used in.
Factors like atmospheric exposure, excess activity without care, and absorption of excess fluid can damage the stone quickly. Whereas, with proper care and necessary maintenance, the structure and features of sandstone can look the same even after decades as it ages well.
Why do Sandstones Turn Black?
Over a period of time, sandstones naturally turn black or dirty due to the accumulation of dirt, reaction with chemicals, and exposure to excess moisture. Therefore, a sandstone supplier recommends attending to spills and stains immediately.
Can I Order Sandstone as a Foreign Resident?
Yes, as a sandstone exporter in India, we export sandstone worldwide, including Europe, Australia, USA, New Zealand, and Singapore, giving you the liberty to choose from numerous color and style options.
WHY CHOOSE US
Quality Guarantee

24/7 Support

Fast Delivery

Largest Stones Collection

10K+

Projects Completed

5K+

Satisfied Clients

100+

Different Colors

16+

Years Of Experience
Our Global Presence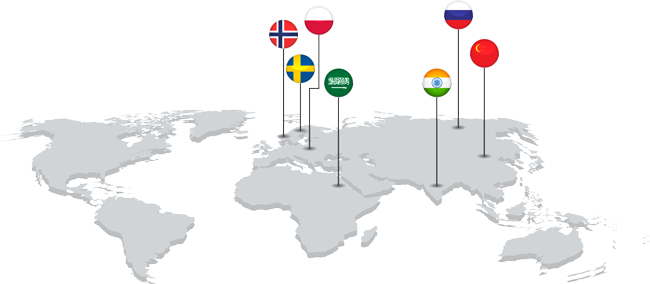 India

Norway

Sweden

Poland

China

Saudi Arabia

Russia
Inquiry Form
Send us the requirements of your project and we will get in touch soon.