25 Jul, 2023 | By Admin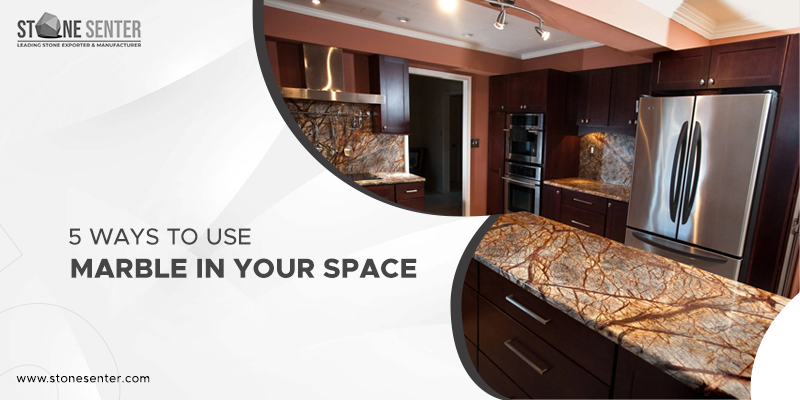 Marble, with its picturesque beauty, has been captivating human hearts for decades. With limestone as its natural stone root, marble is known for its durability, longevity, and luxurious appeal. Architects, interiors, and space owners utilize the uniqueness of stone's vein structure for several decor and construction purposes.
However, are you one of those who love the timelessness of marble but are confused with its application when it comes to using fine-looking natural stone for your space? Worry not. This blog states several unconventional ways of adding a touch or whole of marble to amplify the beauty of your space.
Marble for Kitchen Benchtops
Kitchen countertops nowadays are much more than a surface made to undertake food preparations. According to the trend, people also use it as a gathering, snacking, and entertaining space. As a marble stone exporter in India, we receive multiple queries and requests to send in marble for the benchtop application.
Space owners popularly use marble for their benchtops or kitchen islands because of its easy maintenance and cleaning properties. Additionally, marble as a stone has the capability to stay cool, which in turn eases the burden of benchtops being damaged from the hot pans.
Marble for Bathroom Vanities 
The shiny surface of the marble makes it an ideal choice to be used in bathrooms. It is because the shine helps resist soap scum, making it easy for the top to clean. Coming to visual appeal, marble doesn't back off from displaying its charm in the bathroom.
It can easily complement any type of theme, decor, and accessories used in the bathroom. Additionally, the stone successfully keeps the area from being cluttered in terms of design or decor.
Marble for Flooring 
For those owning spaces in regions or areas experiencing hot summers, marble floors are an excellent choice. It is because this natural stone is a great insulator and does not absorb heat, helping the floors to stay cool even during warm temperatures.
Marble is environmentally friendly and has excellent durability, maintenance, and cleaning properties. Additionally, it is versatile in nature and is more affordable than ever. However, it would be best if you considered using a sealant to decrease the stone's porosity.
Marble for Outdoor Spaces 
Unlike some natural stones, marble, because of its excellent resistance and durability properties, is popularly used for outdoor settings, especially driveways, walkways, patios, outdoor kitchen & dining areas, fountains, and decor.
The properties we wrote about above include its excellent resistance to heat and temperatures or climate, along with its capacity to withstand regular wear & tear. It is a fact that marble, as a natural stone, is on the softer end. However, it can bear and perform way better in outdoor conditions than most people assume. All the marble stone demands are some periodic maintenance and care.
Marble for Custom Furnishings 
It is common for space owners to notice the oddly cut remaining pieces of marble in between or post the creation or renovation of the spaces. What better than to use it to create custom pieces of furniture, such as a coffee table, that adds to the aesthetics as well as the functionality of the overall space?
Do You Need a Fine-Looking Marble? 
Marble, being a natural stone, is an investment that your space can cherish for decades. As a natural stone exporter, we allow you to choose from multiple marble options varying in design, color, and style with us. Our aim is to deliver quality and unique stone featuring veins that reflects luxury yet warmth wherever used.
So, contact us to turn your marble dream into reality.
Request FREE Quote