05 Apr, 2023 | By Admin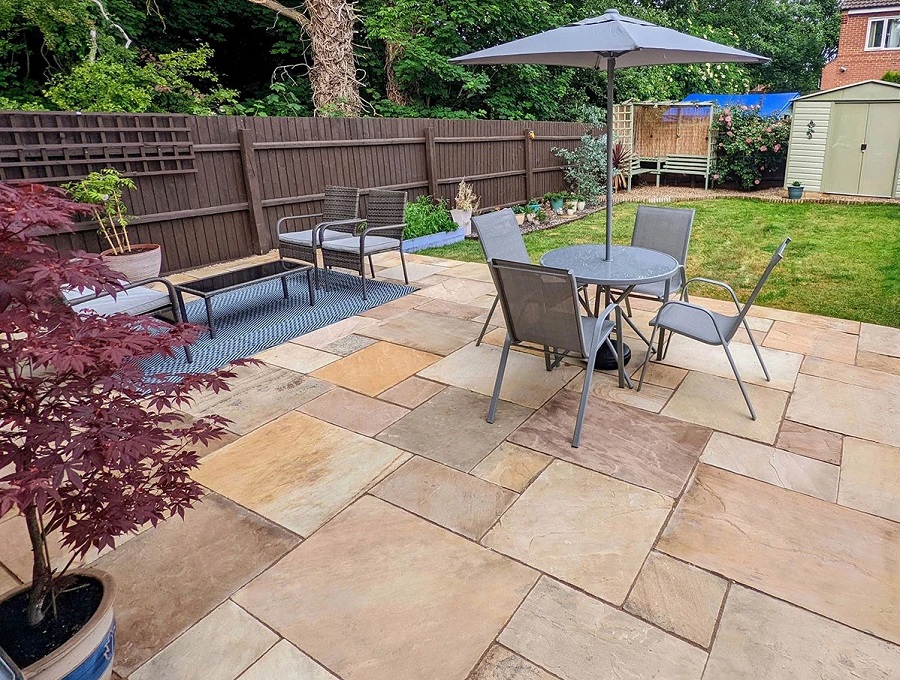 A question to start with. What will you get if you add sand + stone? Sandstone obviously. It is one of the most fascinating and versatile natural stones with captivating textures, rich history, and distinctive physical attributes.
A popular sedimentary rock – sandstone, is a composition of tiny grains of gravel, sand, or minerals like feldspar and quartz cemented in conjunction for thousands of years. The colour of this natural stone depends upon its impurities and the colour of its grains. Geology admirers, nature lovers, architects, scientists, and even artists have been in awe of the stone's curves and patterns. Now, it is time for you to admire the stone's beauty by choosing it for floors and purchasing it from a sandstone supplier. Justifying the statement are the reasons articulated below.
The Advantages of Choosing Sandstone
Sandstones are more than just aesthetic. It is also about the properties and features of stone, making it an ideal flooring choice.
Nature's Essence
Like other natural stones, sandstone has a mysterious yet charming quality. They are available in a variety of shades ranging from white to charcoal black to multicolour stone, but the most common ones are natural beige, grey, and brown tones with an essence of earth and rock. To enjoy the beauty of sandstone floors daily, connect with your region's best natural stone supplier and purchase the sandstone flooring that best suits your space.
Longevity
As a natural stone, sandstone has the capability to withstand heavy footfall and climatic conditions. In addition, it shows excellent resistance to moisture, scratches, acids, chemicals, and more. Therefore, sandstone flooring can be your pick of the day for indoor applications like the kitchen, bathroom, and hallway. It is also great for outdoor applications like walkways and patios.
Easy to Maintain
There's no rocket science to cleaning sandstone. These stones can last for decades and still look the same if cleaned or maintained regularly. Some tips for cleaning sandstone are.
For Indoor Floor Tiles:
Use a broom followed by a damp mop for regular cleaning.
Use dishwashing soap in case only water doesn't work.
Use a baking soda and water solution in case you don't want to use soap.
Use a cloth to wipe the surface dry after using any solution.
For Outdoor Floor Tiles:
Sweep off the dirt or debris.
Spray water and let it stay for about 30 minutes.
Scrub the floor using a plastic-bristle broom and water.
Use a soap + water solution, if necessary.
Mentioned above are general ways to clean and maintain sandstone. Still, in case you need to know a cleaning routine for specific circumstances such as discoloration, you can ask a natural stone manufacturer in India at the time of purchase.
Easy to Replace
Each sandstone tile has an individual installation, making it easy to remove and replace the tile. This saves a lot of money by eliminating the need to replace the entire flooring. The only challenge is to match the stone or stock a few extra pieces of tiles.
For a Cooler Space
Well, your space certainly looks cool with sandstone flooring, but what if it feels cool too?
People living in warmer areas prefer sandstone for its natural cooling properties. This natural stone's thermal conductivity is low, making it a decent insulator. In addition, it can store and absorb heat which helps regulate the space's temperature.
Wrapping Up
Sandstone, a sedimentary rock, has been used for ages in several construction and interior projects due to its artistic appeal, durability, and robust properties. If you wish to consider an eco-friendly and sustainable option for floor tiles, sandstone is a perfect choice.
Whether you reside in India or internationally, to explore and find the perfect sandstone flooring, you can contact us, a leading natural stone supplier and sandstone exporter in India.
Request FREE Quote