30 Mar, 2023 | By Admin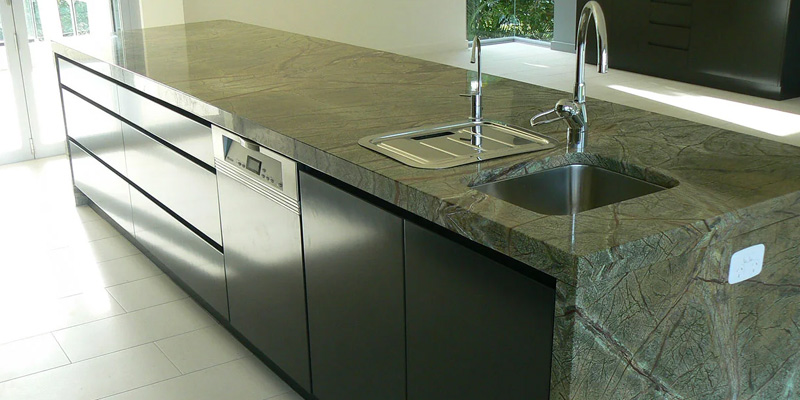 How many of you choose green rainforest marble in your home interiors for their lustrous and rich looks? The answer is almost everybody.
Marble stones add class and elegance to your home, and we at StoneSenter know that's one of their key selling points. But, like every beautiful thing, these, too, need a bit of care to keep them in pristine condition and extend their lifespan.
These natural stones are quite susceptible to natural elements and can lose their aesthetic appeal if exposed to harsh conditions for long durations. Even stains and acidic juices like lemon juice, tomato juice, or wine can dull the stone's surface if left for a long time.
Take it from us, the leading marble stone exporter in India, that a little maintenance can go a long way in ensuring the longevity of your precious marble surface.
Come, let us look at some simple maintenance tips to help you keep your rainforest green marble looking new.
Wipe Out the Stains as Soon as Possible
As an expert stone manufacturing company, we have realized that people have a preference for green marble as it adds a touch of natural beauty and grace to the space. However, when using a marble countertop in the kitchen, you should get rid of the stains as soon as possible. Marble is a porous material and can absorb spills and stains, ultimately deteriorating the finish of your countertop. Ensure to use proper bowls and chopping boards to keep away the acid from the marble, and clean it immediately in case of a spill.
Use a pH-Neutral Cleaner
Irrespective of your use of marble in flooring, backsplashes, or countertops, always opt for a pH-neutral cleaner. Avoid using acidic or abrasive cleaners like those containing vinegar, bleach, or ammonia, as they will damage and dull the finish. You can instead go for a mild cleanser and a soft cloth for a gentle clean.
Seal the Marble
It would be best if you sealed your marble to protect it from scratches and stains. Choose a premium quality sealer to create a barrier against liquids and other contaminants by filling up the pores. There are some finishes available that do not need sealing, so consult with stone manufacturer before deciding on the frequency of sealing required.
Typically, you should seal your marble every couple of years but it also depends on the use and quality of the sealant.
Try to Avoid the Use of Sharp and Heavy Objects
We understand that you cannot avoid heavy and sharp objects forever, but you can be careful while handling them on marble floors. Marble is a soft stone and can easily chip or scrape when subjected to heavy weights or pointed objects. Try to avoid placing such things directly on the surface. In kitchens, you can make use of chopping boards or trivets, and on floors, you can use protection sheets while moving your furniture around.
Wrapping Up 
So, there you have it, directly from the leading marble manufacturer in India! Follow these simple maintenance tips to have a long-lasting and lively marble surface. Always remember, prevention is better than cure, so shower some care on your marble surfaces and maintain their shine for years to come.
Get ready to show off your pristine green rainforest marble surfaces and let people marvel at how well you care for them!
Request FREE Quote