31 Jul, 2023 | By Admin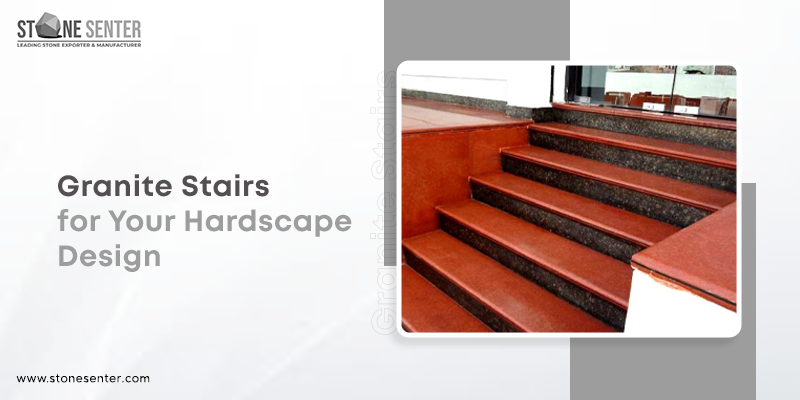 Granite, a beautiful natural stone, is known to stand the test of time. This light-colored rock, mostly formed in mountainous regions, comprises potassium feldspar, quartz grains, and sodium feldspar.
It is not uncommon for you to note granite bathroom or kitchen countertops because of their longevity, strength, and beauty. Granite, as a versatile stone, is ideal for several indoor and outdoor applications, especially when it comes to stairs. However, some of you might still wonder whether granite for stairs is an ideal option, thus this blog. Don't forget to read till the end if you wish to make informed decisions.
Because it is Beautiful
Granite, a captivating natural stone, is pleasant to admire and is known to be one of the most functional natural stones to exist. As a granite stone exporter, we have a beautiful collection of granite in several stunning patterns and colors. So, thank mother earth for the formation of these stones before you choose an ideal granite stone for your space.
Durability at Its Best
Granite comprises feldspar and quartz, which as minerals, are stronger than steel as per the Mohs scale of mineral hardness. It can withstand heavy footfall, extreme weather conditions, and temperature fluctuations.
Minimum Maintenance
Granite has been of minimum maintenance forever. To protect your beautiful granite stairs, you can use our help, an external fabricator, or apply the sealant yourself. It will aid stairs in showing great resistance to weather and footfall while keeping them easy to clean.
Additionally, you can use mops and brooms or vacuum cleaners to eliminate dust and dirt from the stairs. Lastly, thorough cleaning once in a while will keep them in good condition.
Versatility
It is easy to fabricate granite stone available in several patterns and colors in the market. Moreover, the stone can be polished for shine or leathered, honed, bush hammered, or flamed, and can be processed in other ways until the textured or matte surface without reflection is achieved. What adds to its versatility is that the stone can be ideal for any look or style you want for your space, especially stairs.
Safety is a Must 
The cut of the natural stone matters the most when it comes to stairs or any other application. It is because roughly cut corners might cause minor cuts or injuries, and when it comes to granite, it can be shaped according to the requirement. Rectangle corners can be dangerous, which is why they are least desirable today. Therefore, you can have granite stairs or tops in semicircles, curves, circles, or any smooth corners you desire.
Value for Money 
Choosing materials for your space is no less than an investment that will give you long-term returns. Thus, granite is an ideal choice as it adds value along with beauty to your property. Additionally, it also helps increase the resale value of your property, ultimately ensuring that your investment is worth it.
We Have Your Favorite Granite
As a natural stone exporter in India, we offer you granite stone in multiple options concerning patterns, colors, and finishes. If you wish to incorporate granite in your interior plan, feel free to visit and contact us for the best quality granite stones.
In addition to granite, other natural stones, especially marble, feature certain properties, making them an ideal choice for several indoor and outdoor applications. Therefore, if you are considering both stones, we suggest you understand marble vs. granite to make the best decision.
Request FREE Quote