27 Apr, 2023 | By Admin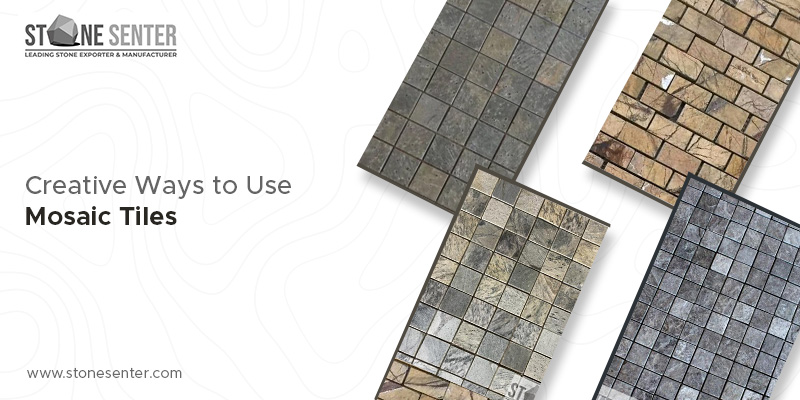 Hello, fellow interior enthusiasts! Are you on the lookout for some out-of-the-box ideas to spice up your interiors using mosaic tiles? Well, look no further, friends; as the leading mosaic tiles supplier, StoneSenter brings you five unconventional ways to jazz up your home using these little wonders. Read on to explore the beauty of mosaics and enrich your home with its aesthetics.
A Mosaic is essentially a piece of art made up of smaller pieces of material joined together to form an extensive larger piece. Through mosaic, you can depict thoughts, scenes as well as concepts and make your space attractive and meaningful. The mosaic tiles are bold, expressive, detailed, and, most importantly, modern. You can blend the beauty of the tile with your interiors to elevate the aesthetics in many ways like:
1. Designing a Custom Kitchen Backsplash
As a stone manufacturing company, we have been a part of many projects where mosaic tiles have been a part of some amazing and vibrant backsplashes. It goes without saying that the kitchen is the heart of the home, and that heart should always be welcoming. Mosaic tiles not only bring beautiful colors and designs to the table but also add to functionality by protecting your walls from splatters and spills. Also, they prove to be excellent conversation starters for your guests.
2. Adding Color to Your Baths
Bright and bold colors in your bathroom can add to the playfulness and make your baths feel more refreshing! Mosaic tiles bring that quirkiness to your bathrooms to make your mornings more energetic. Even if you tend to bend towards more sophisticated styles, mosaic tiles don't disappoint and bring some amazing designs to the table to suit your needs. No matter the style and color you choose, mosaic tiles can add a bit of color and flair to your bathrooms, making them one of a kind.
3. Creating a Focal Point
Use the bold and expressive properties of the mosaic tiles to add a focal point to your rooms. Mosaic tiles can add depth and interest to any space, whether they are used as fireplace surrounds or feature walls. You can go for bold and unique patterns to make a statement or stick with subdued hues for a sophisticated touch and elegance.
4. Designing a Unique Outdoor Space
Mosaic tiles are not limited to just indoor use; you can create unique and vibrant outdoor spaces with them to impress and entertain your guests. Mosaic tiles offer endless options to transform your outdoors with beautiful pavements and stunning tiled fountains. You can also enhance your garden space with relaxing sitting areas of mosaic tiles and create a completely unique space that will leave your guests speechless.
5. Creating a Mosaic Art Piece
You thought that mosaic tiles were limited to flooring and wall options! Well, dear friend! The good news is you can create masterful art pieces with mosaic tiles and add color to any room. Grab a canvas, take your favorite mosaic tiles and some adhesive, and get creative. Put those artistic brain cells into action and create a unique, eye-catching decor.
Wrapping Up
Explore the collection of a mosaic tiles supplier, such as StoneSenter and choose amazing colors and designs to add a pop of color to your home. Mosaic allows you to explore your artistic side and give your home a touch of your personality through bold and detailed tiles to suit all tastes.
So, why wait? Get creative ideas and add some quirky and engaging mosaic feels to your space. You will surely love the outcome!
Request FREE Quote