25 May, 2023 | By Admin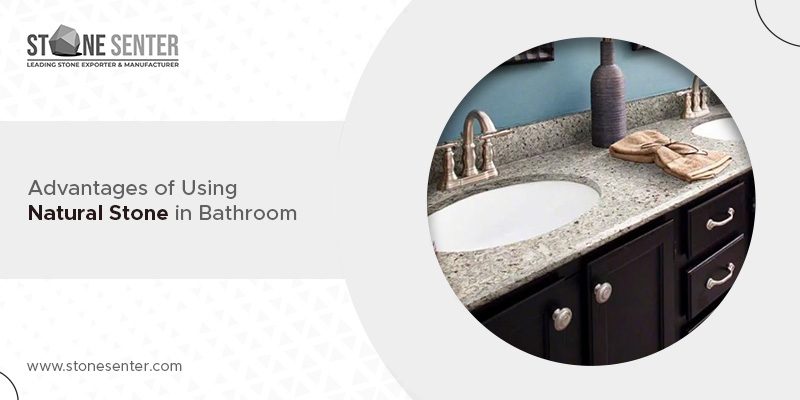 Natural stones are popular, given their durability, beauty, and performance. They are helpful not only in personal and commercial spaces but also in the bathroom. In fact, more and more homeowners have begun installing natural stones into their showers. As a natural stone manufacturer in India, we want to highlight five significant advantages of using natural stones in the bathroom.
Let's get to them right away.
Comfort and Energy Efficiency
One of the core benefits of using natural stones in the shower is that they have a higher capacity to retain heat than other types of tiles. For example, Romans could heat their stone floors effectively by circulating hot air below the floors of a room. This heat would then travel up through the stone and heat other rooms as well. On the other hand, natural stones retain the heat and don't let them traverse through different rooms.
Numerous Design Options
Another advantage of using natural stones in the bathroom is they are available in different designs, colours, and materials you can choose from. The most common types of natural stones used in the bathroom are granite, slate, and marble. Marbles especially are soothing, making the room's vibe more relaxed and calmer.
Relatively Easier to Maintain
Natural stones are very easy to maintain. This benefit is significant in your shower as it's used every day, and it spares you the habit of regular cleaning and maintenance routine. Also, natural stones look great for years to come, so you won't have to go through the headache of reinstalling tiles frequently.
Increase Your Space's Value
One of the other few benefits of installing natural stones in your showers is they increase the home's value. How? Well, these stones complement any part of your home, including your shower, which makes natural stones even more preferred. Also, people are now moving toward contemporary and durable designs. This increases your space's value even more than before.
They are a Long-Term Investment
Using natural stones in your bathroom is globally agreed to have a solid value for any home. It gives your home a leg-up and greatly helps put your home a level up over others in the market. While you may have to invest more money than in ceramic tiles, natural stones are more durable. Also, with rising popularity over the past few decades, natural stones are more affordable now than ever.
Final Words
The article focuses on five major advantages of using natural stones in the bathroom. However, to know more about the benefits or whether natural stones are the right choice for you, contact a stone manufacturing company like StoneSenter. We have numerous options for your space decor whether it be through natural stones or other tiles. All you need to do is know your requirements, budget and contact us.
Request FREE Quote